Snowsight Quick Tour¶
Once you have signed into Snowsight , you can create and manage all Snowflake objects, including virtual warehouses, databases, and all database objects. You can also use the interface to load limited amounts of data into tables, execute ad hoc queries and perform other DML/DDL operations, as well as view past queries. You can also manage user information to change your Snowflake user password and specify other preferences, such as your email address.
In addition, if you have the required administrator roles, you can perform administrative tasks in the Snowsight, such as creating and managing users.
For more information about the administrative tasks you can perform, see Snowsight: The Snowflake Web Interface.
In this Topic:
Main Interface¶
The Snowsight interface is composed of three sections:
The user menu (1) - Use this menu to switch roles, modify your profile, access documentation or log out.

The Snowsight navigation menu (2) - Use this menu to select one of the various Snowsight areas such as Worksheets, Dashboards, Data, and others. If a selected feature includes sub-elements they are displayed beneath the associated menu item. For example, to select databases select Data » Databases.

Content pane (3) - When a Snowsight menu item is selected, the associated content is displayed in the content pane. Note that some elements have additional child elements.
Worksheets page¶
Worksheets provide a simple way for you to write SQL queries (DML and DDL), see the results, and interact with them. Tasks you can perform in this page include:
Running ad hoc queries and other DDL/DML operations in a worksheet.

Examining multiple worksheets, each with its own separate session.

Exporting result for a selected statement, while results are still available.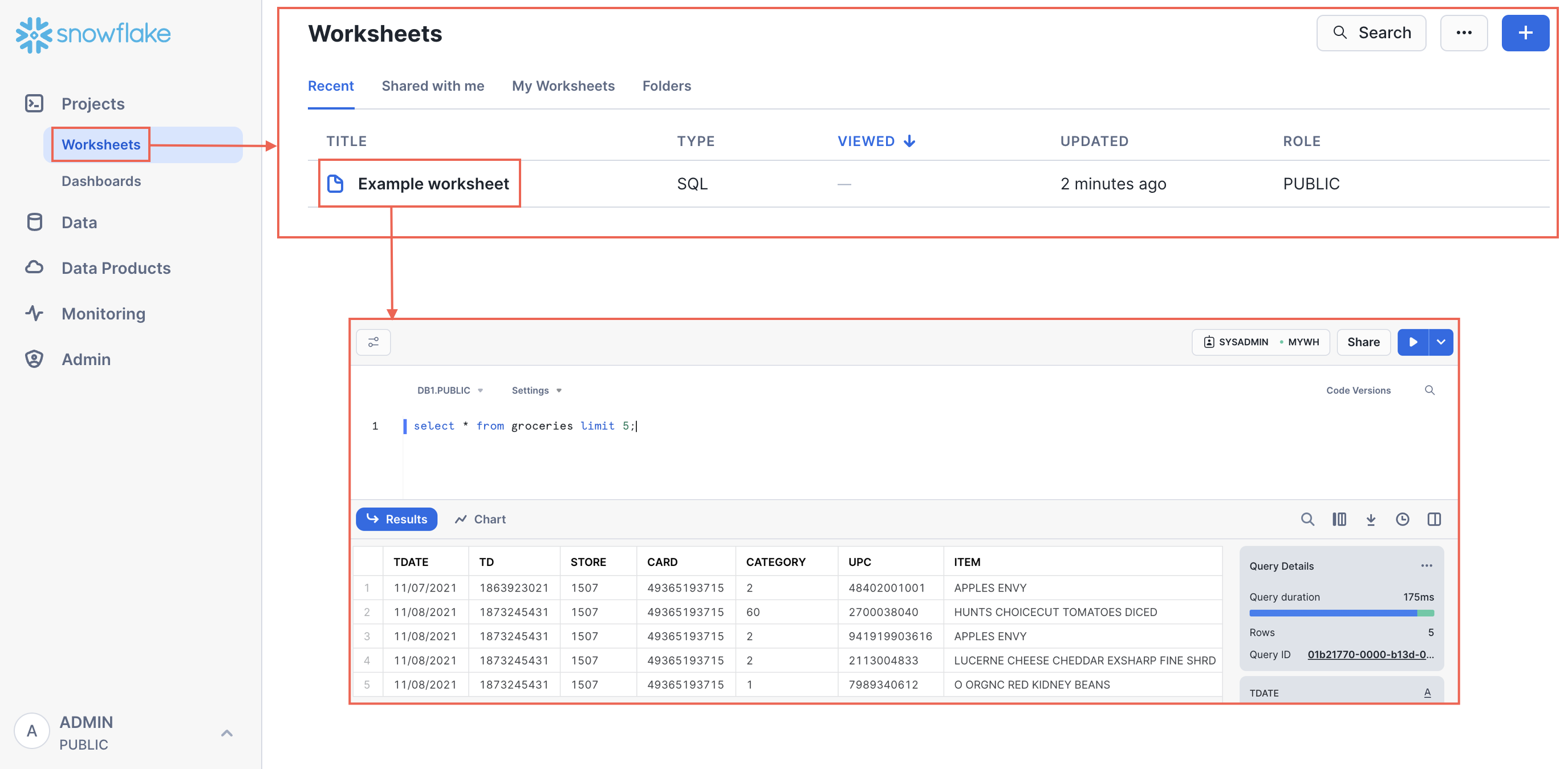 For more details, see Using Worksheets.
Dashboards page¶
Dashboard pages allow you to create, modify and examine Dashboards. Dashboards are flexible collections of charts arranged as tiles. Dashboard charts all start with SQL to generate results and associated charts. These charts can be shared with others, modified, or displayed as dashboard tiles.
To learn more about charts in the context of worksheets and dashboards, see Visualizing Worksheet Data.
Data pages¶
Data pages of Snowsight let you interact with your Snowflake data, including:
Exploring databases and objects, including tables, functions, views, and more using the Database object explorer, a powerful tool for navigating Database and related objects. Additionally you can use search to find and browse database objects account-wide.

Sharing data with other accounts and access data that is shared with you.

Using Provider Studio to manage your experience as a Snowflake data provider.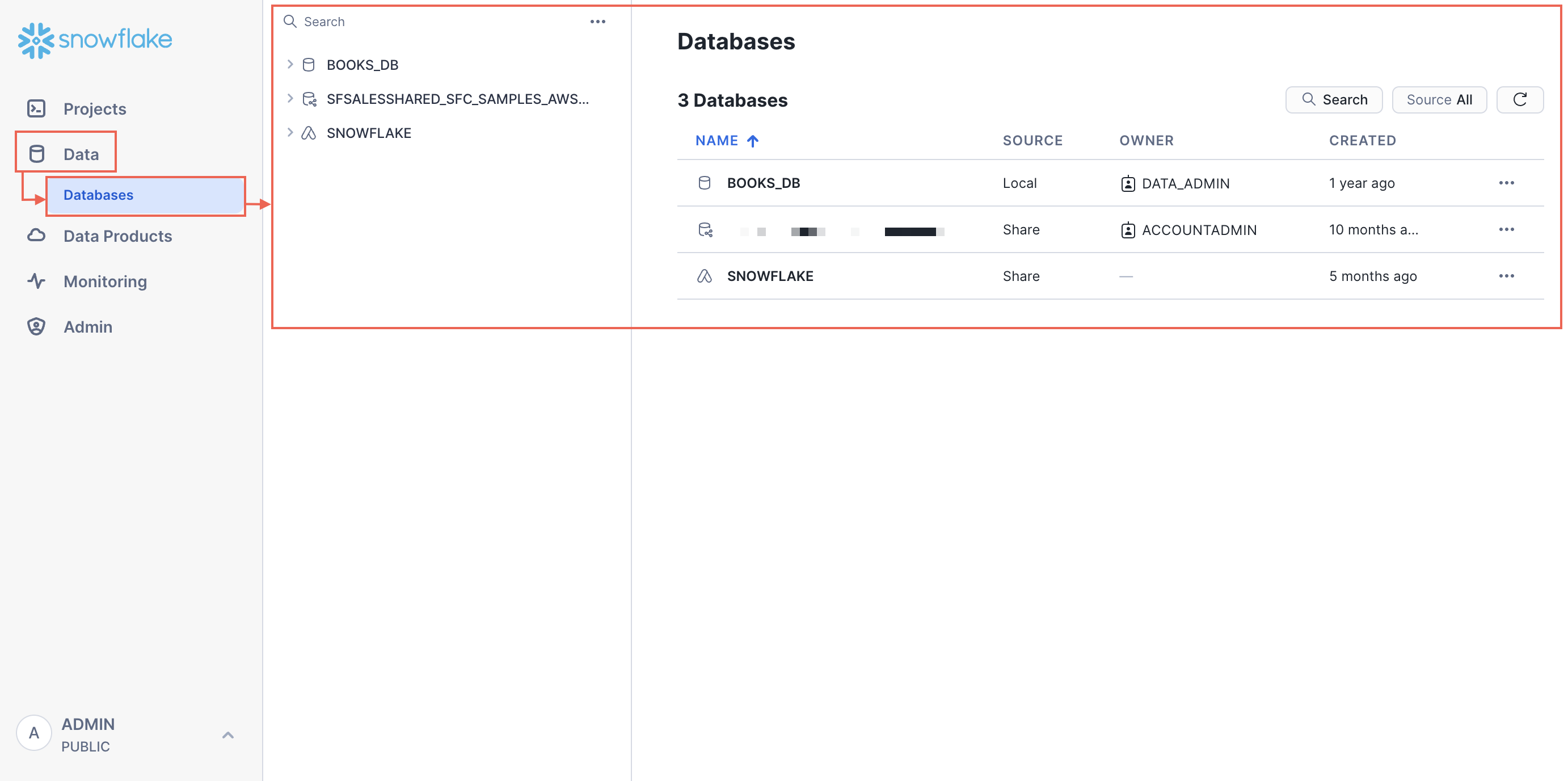 To learn more, see Snowsight: Managing Data.
Snowflake Marketplace¶
Snowflake Marketplace pages allow data consumers to access and query available data sets and services to drive informed data-driven decisions. A significant Snowflake Marketplace benefit lies in that you can directly access shared data without setting up a data pipeline or doing any coding. Data providers can publish data sets or make data analytics services available to Snowflake data consumers. Data consumers securely access live and governed shared data sets directly from their Snowflake accounts, receiving automatic updates in real time.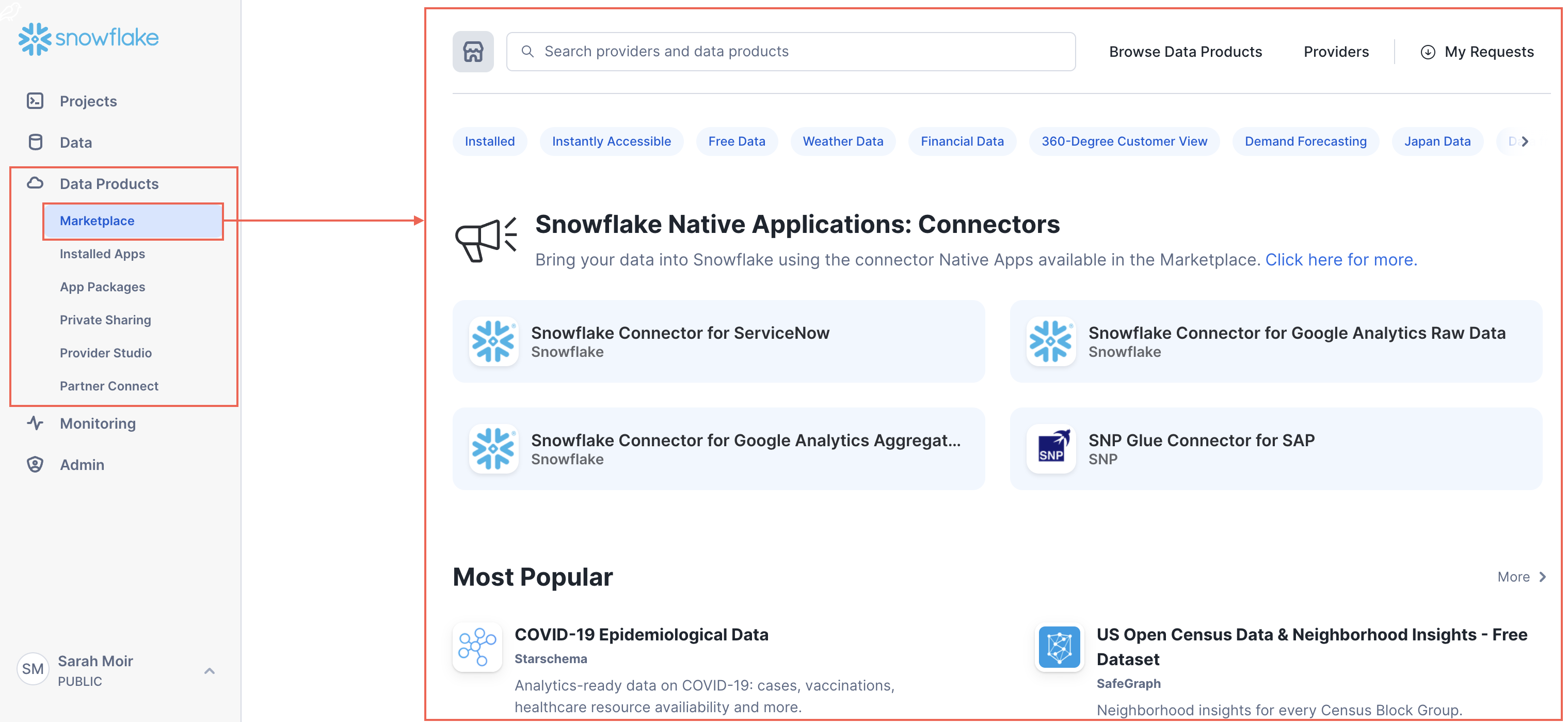 For information about accessing and using the Snowflake Marketplace in Snowsight, see the Snowflake Marketplace.
Activity pages¶
Activity pages lets you monitor and view query details, explore executed query performance, monitor a variety of data loading statuses, and examine Database object history. Snowsight Activity is broken into two areas: Query History and Copy History. Query history displays details of queries executed in your Snowflake account in the last 14 days. Copy History displays data loading activity that has occurred over the last 365 days for all tables in your account.
For more information, see Monitoring Activity.
Admin¶
Admin pages let you understand Snowflake data use, manage warehouses, monitor resources, manage users and roles, administer Snowflake accounts, and more.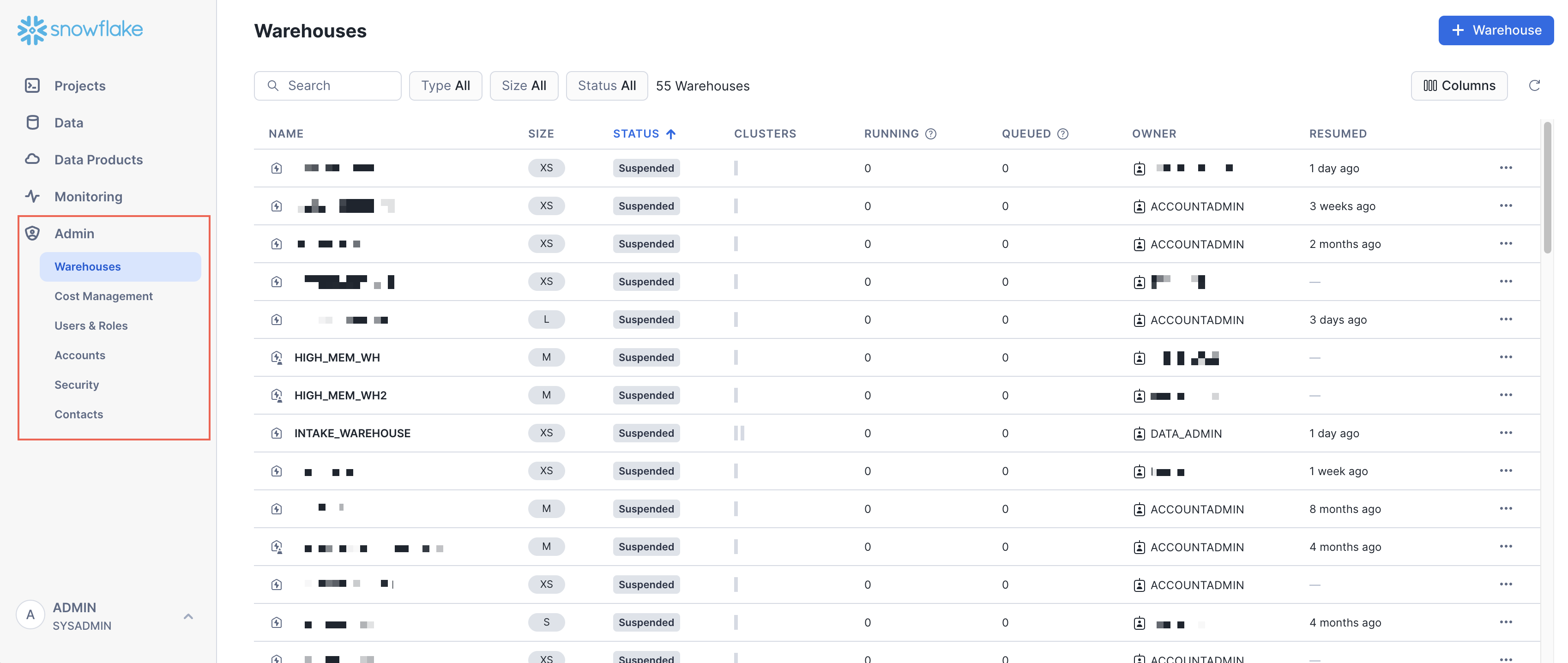 For more information, see Administering Snowflake.
Help & Support¶
The Help & Support page lets you find helpful information about using Snowflake, managing your support cases, and more.